About Us / FAQs
The Thornbury Picture House is run by people who are passionate about film and about bringing a local, independent cinema to Thornbury.
Screening a mix of new releases, documentaries, cult & classic movies, kids' films and festival highlights, we hope that we've got you covered. We love to support local filmmakers as much as possible and we make our screen available for short film screenings, cast and crew events and film premieres. We recently started our very own festival, Northern Lights Film Festival with a strong focus on local short films.
We're a family-run business & some of our other projects are Blow Up Cinema, an outdoor cinema co. & documentary film production co. Gusto Films. Gus won an award at St Kilda Film Festival for a film called The Eagle & he once made a short film about the demise of 35mm film and it played at MIFF, Sydney Film Festival and a few other festivals. You can see it here.
Lou is a freelance music supervisor and has worked on numerous films and TV dramas such as Wentworth, Five Bedrooms and Mustangs FC.
Here's a bit of press about us from The Age & Broadsheet.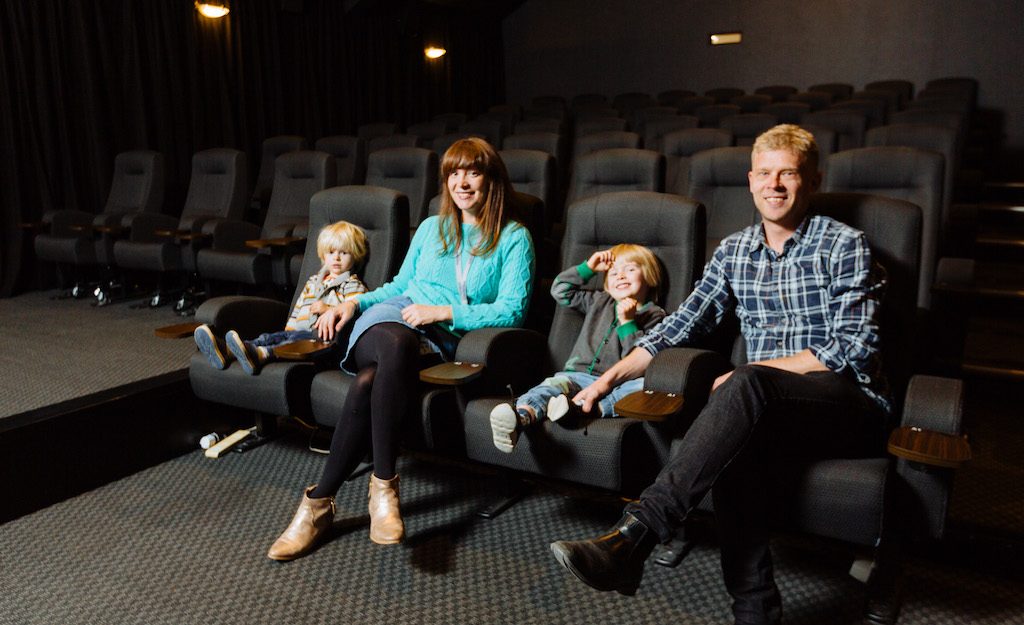 FAQs
What's your response to Covid-19?

It is with a very heavy heart to announce that Thornbury Picture House is going to temporarily close after our final screening tonight.

In this constantly changing environment, we are following the advice of those in the medical profession who are urging us to stay at home to prevent the spread of this virus. In addition, the new restrictions placed upon our venue go against what we are about, which focuses on bringing our amazing community together for a drink, to share a box of popcorn and to enjoy a movie. We believe that the culture of our cinema is pretty much the opposite of self-isolation & social-distancing.

We cannot thank you all enough for your lovely and encouraging words whilst we have done all we can to remain open and to maintain safety at the same time. But it has now become untenable. We are devastated to put our staff in this awful situation, like thousands of others in the hospo industry right now.  And we're sorry not to remain a destination for those in desperate need of distraction. To all those who have tickets booked for future films, we will be contacting you and offering a choice of full refunds or vouchers for future use.

As a community, more than ever, we need to support each other & local businesses and to try to stay positive during this extremely stressful and uncertain time. We will also stay strong & do our best to ride this out. 

We cannot wait to welcome you back with the widest of welcoming arms when all this passes. And it will pass.. Love, Gus and Lou ~ Thornbury Picture House X

How can we support you whilst you're closed?

Many people have asked us recently and we would love your support by way of buying a membership or a gift voucher. This will not only give us much needed funds to ride this out but also the confidence that our locals have got our back. You can see what options we have here and we will also post them out to you.

Where do I find you & how do I get there?

We are located at
802 High St, Thornbury VIC 3071
(in between Dundas St and The Thornbury Theatre.)

WALK
We are on the corner of High St and Pender St, Thornbury.

TRAM / TRAIN
Get off at stop 41 on the 86 tram along High St. TRAIN: Get off at Thornbury and walk up Blythe St to High St.

CYCLE
There are a number of bike paths to bring you here and when you find us we have six bike spaces to lock up to.

DRIVE
Although we'd rather you didn't drive as there is limited parking around us – there is ample of parking on High st but please beware of the clearways at peak times. Sometimes you can find a park in the Aldi car park off Dundas st after 7pm.

How can I see the VR (virtual reality) film?

If you have a ticket to see a film that day, you can watch the VR film we are featuring that month at no cost.. You can either send us an email or come to the counter  to get a slot. Most films go for approx ten minutes and we will have 4 or 5 available slots during each feature running in the cinema. So, come early and experience one of these films, or stay later.

When are you open?

We open from:
Tuesday, Thursday & Friday 5pm – 11pm 
Wednesday 10.30am-11pm  
Saturday & Sunday generally from midday. 
Please double check website as times may vary.

Are children allowed?

Of course. Children are permitted on our premises provided they are seeing a film within their age rating.

Do you sell gift vouchers?

Yes, we sure do. We have three different types of vouchers available, ranging in price from $30 to $100 and they include a combination of film tickets, drinks, snacks and food options. These can be purchased in person at the cinema.

FEATURE: $30 includes one movie ticket, one glass house drink (wine, beer or soft drink), small popcorn or choc-top.
DOUBLE FEATURE: $60 (as above but for two people).
GOLDEN TICKET: $100 Two movie tickets, two glasses house drink (wine, beer or soft drink), two small popcorns or choc-tops plus two dishes from Italian eatery up the road, Umberto's.

Gift cards can be bought in person at the cinema or we can take credit card payment over the phone and then we'll  post it out to you. If you email us, we will be happy to call you at a suitable time.

To redeem your voucher please email hello@thornburypicturehouse.com.au at least 24hrs before the date of the film you'd like to see. In the email please tell us the film, date, time and preferred seats and we'll reply with confirmation

Do you accept 'carer cards'?

We sure do. Accompanied carers can come free of charge – but please either email or call the cinema so we can print off a complimentary ticket to ensure you don't miss out if the session sells out.

Do you offer sessions with babies?

Yes, every Wednesday morning (usually 11am) we will show a film exclusively for adults and their babies (up to 18 months). Easy pram access, plenty of secure pram parking in the foyer & a baby change table. Cry baby sessions: $12 (babies free) and yes, we make a lovely coffee!

Are you accessible?

Yes, our venue is fully accessible for wheelchair access. We are working on a suitable system to cater for the hearing & vision impaired.

What are your film prices?

We try to keep our prices reasonable & affordable.
Full price tickets: $18.50
Concession & Breakfast Club members: $15
Seniors and children: $12
Wednesdays – All tickets for all sessions: $12
Wednesdays – Cry baby sessions: $12 (babies free!)

Guardians of children are also able to purchase tickets at kids' prices for our kids' films.

Who are concession tickets available for?

Unwaged, students and PBS, 3MBS & RRR radio station subscribers. Concession also for Friends of the NFSA. Cinema Pioneers pay $12.

Is the cinema & bar available for private hire?

Yes it sure is, the perfect place for your fim premiere, cast and crews screenings or parties. – please see our 'Private Hires' page.

We also make our cinema available for fundraising events and we offer six charities a year free use of our cinema for their fundraising activities.

Do you have reserved/allocated seating?

Yes, all sessions except the 'cry baby' session have allocated seating. Please choose your preferred seat when booking online or in person at the cinema.

Why do you get some films late?

This is a good question! Film distributors offer films on policy – which means we have to either commit to multiple screenings a day to get a film early or they simply make us wait (sometimes up to six or seven weeks from the film's release date. It's a constant battle/negotiation to try to get films to you as soon as we can!

Can I suggest movies I'd like to see?

Yes, we love hearing from our cinemagoers as to what films they'd love to see on our big screen. Please email us your ideas.

What are your food & drink options?

As we don't have a kitchen, we are working with local, Italian favourite, Umberto's to provide you with some delicious small and shared plates to enjoy in our bar and in our cinema. Choose from antipasto, meatballs, calamari and polenta chips

We also have some very tasty craft beers from local breweries Hawkers, Bodriggy and just over west, Two Birds Brewing.

We also serve a range of cocktails including our very own Motor Spirit and the straight up classic, Four Pillars gin & tonic. We also have an espresso machine with coffee from Padre in East Brunswick.

But, hey, we're a cinema so expect freshly made popcorn and mouth-watering, handmade choctops from The Ice Cream Embassy & The Toddy Shop, both from Preston and they're delicious!

Do you offer a reduced hire fee for charities & filmmakers?

We sure do. We have a not for profit rate for groups wanting to hire the cinema for fundraising or awareness raising purposes and also for independent filmmakers wanting a space for a cast n crew screening or premier.
We also make our cinema available for free for local, not for profit groups and charities. Email us if you'd like to be considered for this offer.

Who are your friends?

We have a feeling that our regular patrons will become our good friends – but there are a number of organisations and single screen cinemas that have a similar ethos to us and we thought you might like to know about them too.

Dochouse
The Castle Cinema
Pivotonian Cinema – Geelong
Melbourne International Film Festival
Melbourne International Comedy Festival
Sun Pictures – Broome (Worlds best cinema)