About Us / FAQs
The Thornbury Picture House is run by people who are passionate about film and about bringing a local, independent cinema to Thornbury.
Screening a mix of new releases, documentaries, cult & classic movies, kids' films and festival highlights, we hope that we've got you covered. We love to support local filmmakers as much as possible and we make our screen available for short film screenings, cast and crew events and film premieres. We recently started our very own festival, Northern Lights Film Festival with a strong focus on local short films.
We're a family-run business & some of our other projects are Blow Up Cinema, an outdoor cinema co. & documentary film production co. Gusto Films. Gus' first film celebrated the early pioneers of reggae in the UK in the 1950s (Duke Vin & The Birth of Ska), he won an award at St Kilda Film Festival for a film called The Eagle & he once made a short film about the demise of 35mm film and it played at MIFF and a few other festivals. You can see it here.

Gus also produced & directed the documentary, The Lost City of Melbourne which premiered at MIFF in 2022 and went on to be the highest grossing Australian documentary in Australia in 2022. Not bad for a low budget film that was only released in Victoria!
Lou is a freelance music supervisor and has worked on numerous films and TV dramas such as Wentworth, Five Bedrooms, Mustangs FC and The Lost City of Melbourne.
Here's a bit of press about us from The Age & Broadsheet.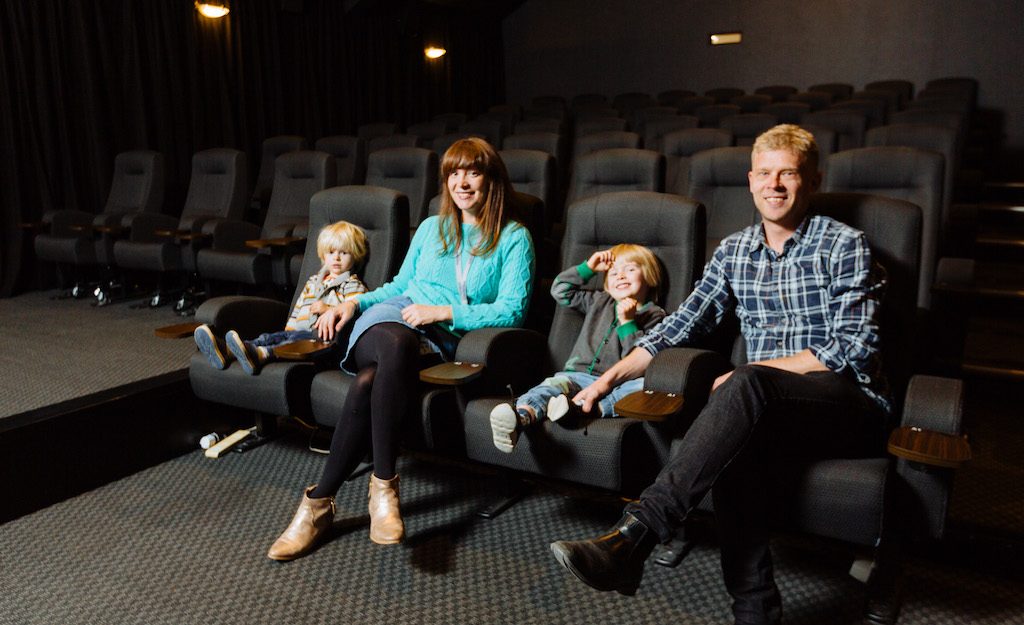 FAQs
I have a voucher, how do I book a ticket?

If your voucher or gift card has a barcode or 16 digit card number you can use this number & pin to book tickets online, but bring along voucher/gift card to venue to redeem bar/ snack items .

For vouchers without a barcode or 16 digit number including The  Golden Ticket you need to email or call us to book movie tickets – you can also redeem at the venue but we suggest booking by email to ensure a seat as sessions can sell out.

(e) hello@thornburypicturehouse.com.au

What are your opening times?

We are open 7 days week. Monday & Tuesday from 5pm, Wednesday 11am – 11pm, Thurs and Friday from 5pm and on weekends, approx 12pm to 11pm. Please check our website for exact timings – we open the doors 30mins prior to our first film of the day.
Hours during holiday periods may differ.

I have a Golden Ticket, how do I book in for a film?

Please email us at hello@thornburypicturehouse.com.au when you know what film you'd like to see and roughly where you'd like to sit. We will email you confirmation.

As a Golden Ticket comes with some small plates from local eatery, Umberto's, please arrive 60mins before your film start time so you have ample time to order and eat.

Please note these plates come from Umberto's and at this stage, they are only open Wed- Sunday.

Can I change my ticket or get a refund?

We will do our best to accommodate a change of ticket/s if you can no longer attend. Please provide us with at least 24 hours notice if you are emailing us to request this change or if the session is on a weekend, please call the cinema at least four hours prior to the session commencing. It would be ideal if you already know what session you would like to swap for, otherwise we can offer you a credit for another visit.

We only offer refunds when we are forced to cancel a show due to Covid restrictions, lockdown or similar reasons outside our control. If you have a ticket and are forced to isolate or if you're feeling unwell,  we will do our best to accommodate a change or credit.

Do you offer films with Open Captions?

TPH is excited to offer certain film sessions with OPEN CAPTIONS to our audience who are Deaf, hard of hearing or simply those who prefer captions..
Open Captioning is when films have text and sound descriptions displayed on screen to allow all patrons to enjoy movies together. We plan to programme Open Caption sessions of all our popular films once every few weeks and the films will be identifiable by having (Open Captions) following its title on the website.(Please note however that not all films are provided with Open Captions.)

Movies should of course be enjoyed by all and we look forward to welcoming those who are Deaf or hard of hearing to TPH. We will continue to strive to make our cinema fully accessible to everyone.

Do you sell gift vouchers?

You sure do. Gift vouchers, gift cards and TPH merch can be bought via visiting this page. or by visiting the cinema in person.

We hav a range fo gift vouchers and gift cards, details of which can be found on the "gift vouchers & membership" page. We have a bit of a 'TPH experience' gift voucher in the form of a Feature, Double feature & Golden Ticket but we also now have a variable gift cards – you choose the value and recipient chooses how it's spent!

FEATURE: $30 includes one movie ticket, one glass house drink (wine, beer or soft drink), small popcorn or choc-top.
DOUBLE FEATURE: $60 (as above but for two people).
GOLDEN TICKET: $100 Two movie tickets, two glasses house drink (wine, beer or soft drink), two small popcorns or choc-tops plus two dishes from Italian eatery up the road, Umberto's.

If you have the older style card, to  redeem your voucher please email hello@thornburypicturehouse.com.au at least 24hrs before the date of the film you'd like to see. In the email please tell us the film, date, time and preferred seats and we'll reply with confirmation.

If you have the new style gift card/voucher, with the barcode & PIN, you can book your film session online.

Please also note, film distributors only allow a certain number of vouchers to be used to a film – so we cannot g'tee that your voucher can be used to a certain session if our voucher bookings have already been allocated for that session..

What are your film prices?

We try to keep our prices reasonable & affordable.
Full price tickets: $19.50
Concession & Breakfast Club members: $15.50
Seniors and children: $12.50 (children up to 15 years.)
Wednesdays – All tickets for all sessions: $12.50
Wednesdays – Cry baby sessions: $12.50 (babies free!)

Peak Times: (Thursday, Friday & Saturday after 6pm.)
Full price tickets: $21.00
Concession: $17.00
Breakfast Club members: $16.50
Seniors and children: $12.50/$14.50 (children up to 15 years.)

Carers go free, but please let us know so we can book you a complementary ticket.

What food and drinks do you offer?

We offer a curated selection of cinema snacks, such as choc-tops (both dairy and vegan options), popcorn (with yummy vegan butter-salt), Maltesers, tasty nut mix and more.
We work with local Italian favourite eatery, Umberto's to offer delicious shared plates such as antipasto, arancini balls, calamari, polenta chips, gourmet sausage rolls and more..
We also offer a fantastic drinks menu, including cocktails; Four Pillars G&T, negroni, margarita, espresso martini, Bloody Spritz, Bloody Lemon, Americano, paloma and our in-house cocktail, The Motor Spirit.

We have a great selection of wines, local beers, cider, prosecco, champagne, soft drinks, tea and (Padre) coffee.

Where do I find you & how do I get there?

We are located at
802 High St, Thornbury VIC 3071
(in between Dundas St and The Thornbury Theatre.)

WALK
We are on the corner of High St and Pender St, Thornbury.

TRAM / TRAIN
Get off at stop 41 on the 86 tram along High St. TRAIN: Get off at Thornbury and walk up Blythe St to High St.

CYCLE
There are a number of bike paths to bring you here and when you find us we have six bike spaces to lock up to.

DRIVE
Although we'd rather you didn't drive as there is limited parking around us – there is ample of parking on High st but please beware of the clearways at peak times. Sometimes you can find a park in the Aldi car park off Dundas st after 7pm.

Where do I book if I'm a wheelchair user?

We have three spaces for wheelchair users in the theatre.

These are all in the 2nd row . When booking, please choose either seat number B5, B6 or B8.

If these seats are not available – please email the cinema and we will organise this for you. hello@thornburypicturehouse.com.au

Are children allowed?

Of course. Children are permitted on our premises provided they are seeing a film within their age rating. With regard to 'child' prices, we classify a child as between 3-15 years old.

Do you accept 'carer cards'?

We sure do. Accompanied carers can come free of charge – but please either email or call the cinema so we can print off a complimentary ticket to ensure you don't miss out if the session sells out.

Do you offer sessions with babies?

Yes, every Wednesday morning (usually 11am) we will show a film exclusively for adults and their babies (up to 18 months). Easy pram access, plenty of secure pram parking in the foyer & a baby change table. Cry baby sessions: $12 (babies free) and yes, we make a lovely coffee!

Are you accessible?

Yes, our venue is fully accessible for wheelchair access. We are working on a suitable system to cater for the hearing & vision impaired although we do offer sessions with Open Captioning. Please check the website for current sessions or email us for the next planned session.

Who are concession tickets available for?

Unwaged, students, health care card holders and PBS, 3MBS & RRR radio station subscribers. Concession also for Friends of the NFSA. Cinema Pioneers pay the senior rate of $12.50

We classify a 'child' up to 15 years old.
Please bring your ID card with you.

Is the cinema & bar available for private hire?

Yes it sure is, the perfect place for your fim premiere, cast and crews screenings or parties. – please see our 'Private Hires' page.

We also make our cinema available for fundraising events and we offer six charities a year free use of our cinema for their fundraising activities.

Do you have reserved/allocated seating?

Yes, all sessions except the 'cry baby' session have allocated seating. Please choose your preferred seat when booking online or in person at the cinema.

Why do you get some films late?

This is a good question! Film distributors offer films on policy – which means we have to either commit to multiple screenings a day to get a film early or they simply make us wait (sometimes up to six or seven weeks from the film's release date. It's a constant battle/negotiation to try to get films to you as soon as we can!

Can I suggest movies I'd like to see?

Yes, we love hearing from our cinemagoers as to what films they'd love to see on our big screen. Please email us your ideas.

What are your food & drink options?

As we don't have a kitchen, we are working with local, Italian favourite, Umberto's to provide you with some delicious small and shared plates to enjoy in our bar and in our cinema. Choose from antipasto, meatballs, calamari and polenta chips

We also have some very tasty craft beers from local breweries Hawkers, Bodriggy and just over west, Two Birds Brewing.

We also serve a range of cocktails including our very own Motor Spirit and the straight up classic, Four Pillars gin & tonic. We also have an espresso machine with coffee from Padre in East Brunswick.

But, hey, we're a cinema so expect freshly made popcorn and mouth-watering, handmade choctops from The Toddy Shop, locally made and delicious!

Do you offer a reduced hire fee for charities & filmmakers?

We sure do. We have a not for profit rate for groups wanting to hire the cinema for fundraising or awareness raising purposes and also for independent filmmakers wanting a space for a cast n crew screening or premier.
We also make our cinema available for free for local, not for profit groups and charities. Email us if you'd like to be considered for this offer.

Who are your friends?

We have a feeling that our regular patrons will become our good friends – but there are a number of organisations and single screen cinemas that have a similar ethos to us and we thought you might like to know about them too.

Dochouse
The Castle Cinema
Pivotonian Cinema – Geelong
Melbourne International Film Festival
Melbourne International Comedy Festival
Sun Pictures – Broome (Worlds best cinema)

What is the history of your beautiful building?

Our building was built by LH Tadich in 1920. It was one of the first drive-through garages in Melbourne – at a time when Melbourians were buying their first motor vehicles. In the mid-20s, you could get you car serviced or you could buy an Oldsmobile for around 500 pounds from Mr. Tadich. The business changed hands several times and was an Ampol Petrol Station in the mid 80s. It was briefly a second hand furniture shop before we took over the lease and converted it into a fully independent single screen cinema.